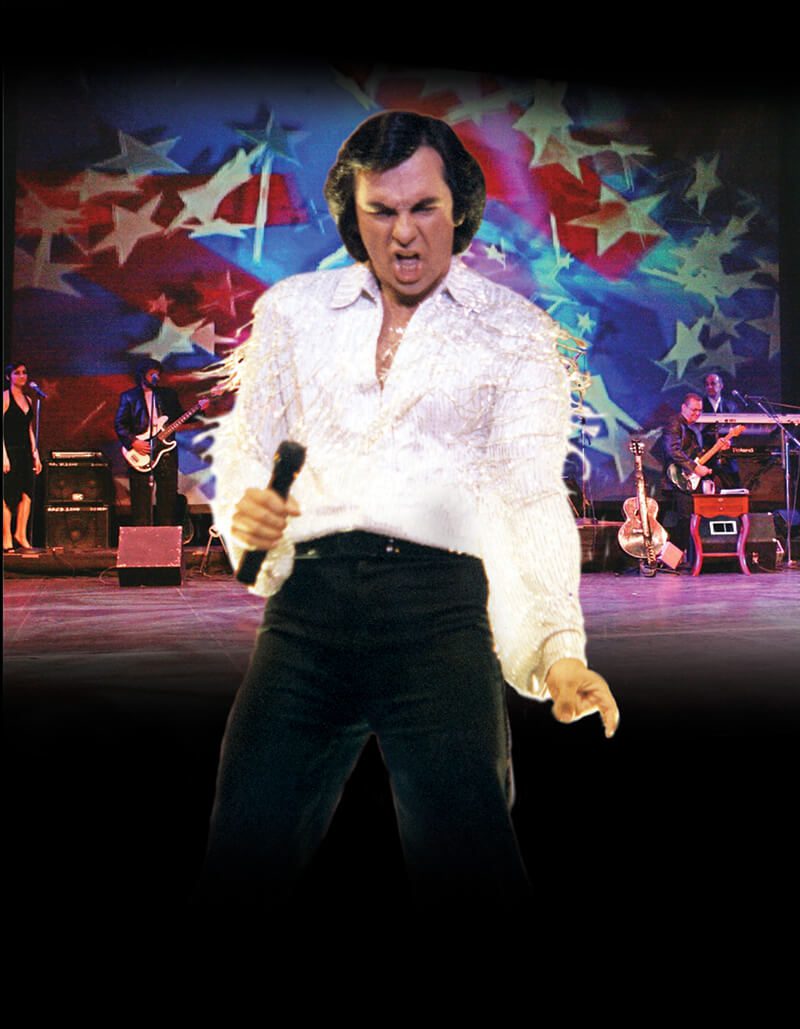 The Sweet Caroline Tour is a Neil Diamond Concert Celebration starring the #1 Diamond performer in the world - Jay White. It is without question the most authentic Neil Diamond Concert Experience on the planet. Conceived in response to Mr. Diamond's retirement from the concert stage and the huge demand from audiences worldwide to enjoy the music of the Rock N' Roll Hall of Fame icon in a live music setting, Jay and the dynamic Sweet Caroline Tour Band pays homage to Neil Diamond by performing the hits and beloved gems you know and love with the same energy and artistry Neil delivered over his incredible 50 year career.
Over three decades Jay White has performed more than 10,000 concerts around the world reflecting the stage persona of an American Music Legend. Each expression of every Neil Diamond song performed by Jay evokes the power and the passion of a live Diamond performance.
Jay is grateful that his years of dedication and devotion has convinced tens of thousands of Diamond fans that he is the closest thing to the Real Deal – and he's also humbled to have been acknowledged and embraced by Neil, Neil's family and Band for performing the Brooklyn-born singer/songwriters' music live in concert in the most respectful, convincing way possible. Jay stated: "Neil's kindness and acceptance has always been greatly appreciated and I'm honored to have appeared with him on his "Stages" Box Set DVD. Now, more than ever, I will continue to pay homage, through each and every performance, to the man who has meant so much, to so many, for so long. Especially me."
"You've set a new standard and surprised us beyond words. The atmosphere was ELECTRIC!"

— Princeton University
"INCREDIBLE! Nothing but RAVE REVIEWS! One of our best pops concerts ever!"

— Macon Symphony
"An absolutely SENSATIONAL show as the audience went WILD!"

— Soka PAC
STARLIGHT is a musical-drama that follows the journey of a determined, free-spirited young singer who searches cross country for an aging pop-rock icon to secure the rights to rerecord his unreleased 'lost' album, which she's certain will make her a huge star. After locating the reclusive, bitter ex-songwriter in a rustic, backwoods old-Florida town, the beguiling young woman overcomes the harsh, initial rejection by the downtrodden has-been and ultimately breaks through and forms a special bond with him. The unlikely romance that ensues sets into motion a series of twists and turns that culminates in an unforgettable finale. A mystical tale powered by a variety of original songs and vibrant performances from the multi-talented ensemble cast, the emotionally-charged film ultimately helps us understand that Inspiration often comes when you least expect it - and that, in the end, everything we need to succeed is already within our reach.
Jay White
Stills From the Set